According to a recent event industry report, event management and event automation software is considered the most important technology for achieving successful outcomes at events. A majority of these organizations are specifically prioritizing event tools that easily integrate with their existing systems, such as their CRM or database.
Event management software (EMS) is a technological solution for associations, nonprofits, and other organizations to take advantage of when planning an upcoming event. This solution makes it easier to plan and launch events, and conveniently compiles critical data reports for your team to review. Aim for an EMS that can integrate with your organization's CRM for best results. A 100% native EMS is even better.
Most event management tools will focus on one aspect of event planning, but there are also software solutions out there that can help you with the entire event lifecycle—from registration to compiling effective reports afterward. You've likely heard of Linvio Events as a popular solution. However, there are plenty of other comprehensive alternatives that may be better suited for your organization.
What is Linvio Events?
Linvio Events is a commonly used event management software solution. 100% native to Salesforce, a popular CRM system, Linvio Events attracts those that don't want to go through a costly integration. Integrating with your organization's CRM is important, as it centralizes your data and helps produce effective reports for your team to review. With Linvio Events, you skip integration altogether, and your event data is already accessible in your CRM.
Focused on monetizing your events, Linvio Events is built to help planners measure their impact and recognize where they can make the most event dollars. While Linvio Events can configure online registration pages and process online payments securely, the software tends to concentrate on generating profit rather than prioritizing attendee satisfaction and ease of use.
Popular solutions like Linvio Events may seem like the only choice, but there are holistic alternatives out there which might be better suited to your organization's needs and priorities.
Even though Linvio Events is native to Salesforce, does that make it the only event management solution worth examining? Consider your organization's needs and check out these Linvio competitors.
1. Linvio Alternative: Fonteva Events
Overview of this event software
Fonteva Events is a top event management software built 100% native to Salesforce. This solution streamlines the entire event lifecycle — from ticket sales to vendor management to post-event surveys.
As an all-in-one event management solution, Fonteva Events leverages powerful Salesforce insights to help you plan and host better events. With your EMS and CRM systems working together, you'll gain access to real-time event details and attendee profiles. With your data consolidated in one convenient location, Fonteva Events provides comprehensive reports so your team can evaluate what went well and determine what can be improved.
With no integration necessary, Fonteva Events offers a user-friendly and intuitive way to improve your event operations.
The best features of this option
Fonteva Events enhances your events from start to finish, streamlining internal processes with these features:
Event microsites. Create a visually appealing and branded event microsite to spread the word about your event, share important details, and sell tickets and merchandise.
Online registration form. Customize your online registration form to fit your organization and event's specific needs. You can ask for pertinent attendee information or make certain questions optional. The registrant's personal details and preferred payment option will be saved to your CRM, eliminating the need to reenter information.
Ticketing options. Offer multiple ticket levels based on how engaged your registrant wants to be. With Fonteva Events, you can also offer discounts or provide personalized pricing to your constituents.
Setup, speakers, vendors, sponsors, and venue management. You can't always plan for a speaker cancellation or a suddenly unavailable venue. With the Fonteva Events platform, your staff members can easily monitor and address these critical components.
Fair and predictable pricing. Fonteva Events serves as a comprehensive yet affordable solution for your event management needs. With just one fee per year and a one-time implementation cost, your team can focus on running a successful event rather than worrying about your budget.
Where can you learn more about this Linvio alternative?
Fonteva Events is an event management software your organization can implement today. Check out Fonteva's website to learn more.
2. Linvio Events Alternative: Boomset
Overview of this event software
Boomset is a comprehensive event technology solution for on-site experiences, servicing events with over 2 million attendees annually. In only one platform, your event management team can oversee your event and produce insights based on registration and your check-in and check-out process.
While not a completely comprehensive solution, Boomset can integrate with other event management software, though not CRMs, to supplement certain management issues.
The best features of this option
Investing in Boomset can change how your event is experienced with these features:
Instant check-in and on-site badge printing. With Boomset your team can check-in attendees through QR code scanning or even facial-recognition based on previously uploaded photos. You also have access to on-site badge printing, so you can give attendees physical passes as soon as they walk in.
Manage and track sessions with RFID/UHF/NFC. Using RFID chip-enabled badges or wristbands, you can automate attendance scanning as well as collect other secure event data points. For example, find out how many attendees saw a specific speaker by tracking the chips.
Where can you learn more about this Linvio alternative?
Boomset is perfect for elevating the event experience for attendees. If you want to make your team's lives easier on the event day, check out Boomset's website for more.
3. Linvio Events Alternative: Eventbrite
Overview of this event software
You've likely already heard of Eventbrite, a popular online event management solution. Through their online platform, your organization can create a branded event listing page with a built-in payment processor so registrants can purchase tickets easily.
Eventbrite can integrate with Salesforce, but it's a multistep process, so this might not be the solution if your organization deals with a heavy dataflow. However, some website platforms also work with Eventbrite to embed the experience right into your own organization's site. If your CMS is not eligible, you can also create a specific event page or build a custom branded website on Eventbrite.
The best features of this option
Eventbrite can be easily used for any type of event, whether it is a professional conference, fundraising event, or a multi-day music festival. With Eventbrite, your organization can:
Create event listing pages. Eventbrite's biggest selling point is the branded event pages and listings you can create to help facilitate event discovery as well as ticket purchasing.
Manage and track sales in real-time. Equip your team to make the best decisions with Eventbrite's real-time reports. You have ready access to pertinent data, insights, and reports from any device, whether it's through your Eventbrite mobile app or online platform.
Partnerships with Facebook, Instagram, and Spotify. Eventbrite partners with popular sites to help you find your targeted audience. If you're posting a concert on Eventbrite, it can automatically work with Spotify to promote your event to fans where they already are.
Where can you learn more about this Linvio alternative?
Eventbrite can help your organization create beautiful listings as well as extend your marketing reach to the right people. Learn more from Eventbrite's website.
4. Linvio Alternative: Cvent
Overview of this event software
Cvent is an event management software that can simplify the entire event planning process. From helping your organization find the right venue to providing an onsite event check-in process, Cvent can automate simple tasks for your team.
With an integration process, Cvent also works with popular systems like Salesforce. This helps centralize your event data in one place, but may not work as well as solutions which were specifically built for your CRM system.
The best features of this option
Helping your organization plan the best event, Cvent offers these top features:
Online event registration. Cvent provides registration page templates to help your team get started. From there, you can customize it to your unique brand and event. Cvent also encourages you to empower your attendees, letting them modify, cancel, and get refunds on their registration if needed.
Branded event website. With Cvent, you can post a live event website immediately. Choose from a variety of templates or create your own custom design and showcase all relevant event details.
Secure payment processing. With Cvent, you also get Cvent Payment Services. Your organization can collect event fees, automate refunds, and view your payments easily.
Where can you learn more about this Linvio alternative?
Cvent is a popular solution for many reasons, so feel free to learn more about them at Cvent's website.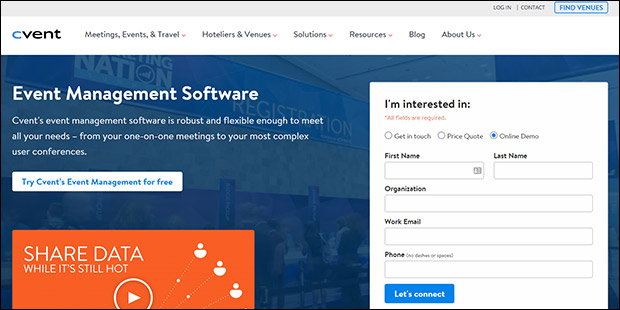 5. Linvio Alternative: ePly
Overview of this event software
ePly is a user-friendly, scalable event management software for organizations of any size and without that much event planning experience. Its straightforward platform helps facilitate event registration in particular, so if you're looking for a more focused fix instead of a comprehensive solution, ePly is a great choice.
ePly also keeps your event registration data centralized as it can integrate with Salesforce. While this is helpful in making sure your attendee's data is accurate in real-time, it might not work as efficiently as solutions that are 100% native to your CRM.
The best features of this option
Your event team will save so much time with ePly's:
Customizable form builder. Your event planning team can build mobile-friendly registration forms easily, making sure you get the necessary attendee information to have a successful event.
Branded event app that attendees and staff can use. With a branded app synced to your ePly event, attendees can create a personal itinerary for a customized experience, display directories for attendees, sponsors, speakers, etc., and view event social media posts in a single stream to encourage attendee engagement. Staff can put all event details in the app as well as update attendees on last-minute changes as they happen.
One-on-one customer service. ePly prides itself on being available for all your event needs. Whether you seek one-on-one support or an extra eye to review and polish your forms, ePly can help.
Where can you learn more about this Linvio alternative?
ePly can help your organization bring up your registration numbers with its intuitive and easy to use platform. You can always visit ePly's website to learn more.
6. Linvio Alternative: Splash
Overview of this event software
Splash is an event management software that can provide your organization with robust event marketing technology. Though this won't meet all your event needs, Splash keeps your event on-brand as the tool gathers attendee data to help your team form the right campaign and target the right people.
Splash makes sure your event data is secure and in one place with its Salesforce integration. This ensures that your marketing campaign is based on accurate information. However, it might not be as comprehensive as a solution that is fully native to your CRM.
The best features of this option
Splash can elevate your event team's marketing strategy with these top features:
Automate custom and personalized invitations. Deliver the right message with no additional work with Splash. Along with invitations, your team can automate completely custom and personalized event reminders, updates, follow-ups, and more.
Filter and sort to segment the target audience. Splash can quickly identify your target audience with intuitive filters as well as customized sorting to determine who's invited and who your top prospects are.
Compiles event data to improve future marketing. Splash helps your team understand your event outcome with customized dashboards. This way, you can review what went well and what can be improved for future marketing strategies.
Where can you learn more about this Linvio alternative?
If you're looking for a more marketing focused solution to help your event team, Splash can help. Check out Splash's website to learn more.
7. Linvio Events Alternative: Regpack
Overview of this event software
With Regpack, your organization can have capable event registration capabilities for any event, whether it is a conference, workshop, training, or retreat. Though not a complete event management solution, Regpack still offers a flexible registration tool that can increase event attendance and keep your internal operations simplified.
Regpack doesn't have any software integrations but can be embedded straight into your organization's existing website to provide a seamless registration experience.
The best features of this option
With Regpack's event management software, you can elevate your registration process. Here are the top features:
Group and individual registration. Regpack allows groups to register within your form. For example, say your organization is hosting an industry conference. With Regpack, one attendee can register all of their coworkers as a group, instead of manually filling in the form separately each time.
Embed registration form on one's own website. You can integrate Regpack's registration form into your official website. Additionally, Regpack lets you customize the form to your unique brand as well as offers easily navigable templates.
Conditional logic capabilities. Regpack's huge selling point is its conditional logic software which personalizes each registrant's experience. For example, as the registrant fills out the fields, the rest of the form will adapt and change to fit personal preferences.
Where can you learn more about this Linvio alternative?
Regpack can help your organization elevate its event registration process. Check out Regpack's website to learn more.
8. Linvio Alternative: Snowball Fundraising
Overview of this event software
If you run a nonprofit, Snowball Fundraising offers event management software which can facilitate all of your future fundraising events. Raise donations with your Snowball donation form and empower your event team with its nonprofit-specific features.
Snowball Fundraising integrates with Salesforce's Nonprofit Starter Pack, a CRM solution specifically built for nonprofits. This ensures that your data is consistent throughout all fundraising tools!
The best features of this option
Empower your nonprofit's next fundraising event with these Snowball features:
Event ticketing. Snowball gives your attendees flexibility by offering advanced ticket sales online as well as at your actual event. You can even sell tickets with Snowball's text-to-give functionality! Additionally, Snowball will count ticket sales, a good way to supplement your attendance tracking.
Fundraising thermometers. Often, nonprofit events will have an overarching fundraising goal that their event is promoting. Snowball helps your team build excitement in attendees and chart fundraising success with live event thermometers. This is a great visual display of your nonprofit's fundraising progress.
Where can you learn more about this Linvio alternative?
If you're a nonprofit and looking for a solution specifically for your fundraising needs, check out Snowball Fundraising's website to learn more.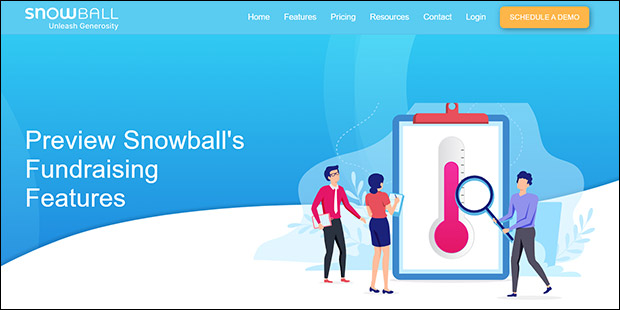 9. Linvio Alternative: Doubleknot
Overview of this event software
Doubleknot is a comprehensive event management software that can support any event or program. However, this platform is specifically designed to meet the needs of niche cultural organizations like zoos, aquariums, museums, science centers, nature centers, botanical gardens, and children scout councils.
While any organization can still take advantage of Doubleknot's event registration and management tools, Doubleknot would probably work best with one of those above organizations. Additionally, if you're thinking of planning an ongoing program rather than a one-off event, Doubleknot's event management software can help with that as well!
Doubleknot comes with its own CRM system, so if you already have a trusty CRM your organization uses, transferring all your data to Doubleknot's system would be an additional consideration.

The best features of this option
Doubleknot can provide an event management solution for your unique organization and equip your team with these capabilities:
Create a custom event/program. No matter the unique event your organization is planning, whether it is a youth event at a children's museum or an educational recurring event for an aquarium, Doubleknot lets you customize the best event for your organization.
Build your own registration form. With Doubleknot's custom forms, fields, and registrant types, your organization can choose which information to collect for any type of event. You can even provide waivers, agreements, and emergency contacts. This registration form data can also be used across the various events your organization offers to quicken the registration process for returning attendees.
Capacity and waitlist manager. Don't worry about overbooking your events with Doubleknot's software. Doubleknot helps you control event capacity by registrant type and number of registrants per registration. Doubleknot can start a waitlist for events that have too many registrants, as well as empty the waitlist as space becomes available.
Where can you learn more about this Linvio alternative?
Doubleknot can help your unique organization engage community members with its event management software. To learn more, check out Doubleknot's website.
10. Linvio Alternative: Eventzilla
Overview of this event software
Eventzilla is an all-in-one event management software that can handle both event registration and marketing. Eventzilla requires no design skills, enabling your organization's event team to easily utilize the platform. Simplify your event registration process as well as promote your event with Eventzilla.
You can easily integrate and sync data from Eventzilla with Salesforce and other products your organization may use. Though this helps make sure your data is accurate, Eventzilla's solution may not work as well as one that is native to your organization's CRM.
The best features of this option
Though Eventzilla has a wide range of features, these are the ones which continue to stand out:
Mobile-friendly event registration experience. With Eventzilla, you allow registrants to signup for your event from any device they're using. Often people will find your event while browsing their mobile device, so ensuring your registration is mobile-friendly can increase attendance!
Self-service options for attendees. Eventzilla empowers your attendees by allowing them to edit their registration themselves. Don't waste your team's time by making them process each name change or payment change. Let attendees modify, cancel, or get refunds on their registration.
Embed the registration widget anywhere. Have your attendees register without leaving your organization's website, or in any portal in which they discover your event. Eventzilla lets you easily embed your registration widget on your blog or social media page, as well as your organization's website.
Where can you learn more about this Linvio alternative?
If you want to learn more about this event management software, check out Eventzilla's website for more.
Conclusions
Don't make the mistake of thinking your organization should just fall default to Linvio Events. Even though it is a very commonly used event management software solution, it might not fit your exact needs. Carefully consider your organization and the type of events you tend to host and think about if any of these other options better line up with your mission.
Additionally, if your organization already depends on a CRM system, make sure your event management software can integrate with it. 100% native to Salesforce, Fonteva Events can be the solution that fits your organization's unique needs as well as keeps your data secure and centralized.
---
Equip your team with the best tools and find the best event management software for your organization. If you want to do some extra research, check out these helpful guides:
https://events.fonteva.com/wp-content/uploads/2019/11/Linvio-Events-Alternatives_Feature.jpg
250
625
jfabbri
https://events.fonteva.com/wp-content/uploads/2021/09/FONTEVA_WHITE_LOGO-smol.png
jfabbri
2019-11-06 14:56:08
2019-11-13 18:48:00
Linvio Events Alternatives: 10 Other Software Options