Whether you're an association or a nonprofit organization, planning and managing an event takes time and energy. From deciding what kind of an event to host to organizing ticket sales to generating post-event reports, is it possible to do it all?
Events are a great way for you to engage with your members and build those relationships. However, to best manage your events you should be investing in event management software. That's where this guide comes in—to help you form a basic foundation. After reading this, you'll be able to answer these 3 questions:
Investing in a whole other management system may seem daunting, but you won't regret it. Read on to begin the journey to a successful line of inspiring events!
1. What is an event management system?
Let's get right to the basics. Event management software is a set of solutions that helps organizations manage and plan events more efficiently. Not only does event management software assist in handling ticket sales and conjuring up post-event reports, but attendees also have a better time with easy mobile access to event details and a smooth registration process. 
For any organization, event management software will make planning events quicker and easier. There is a lot of great software out there that can provide solutions to any event problems you come across. You'll never have to worry about if your payment processor is working or if your marketing strategy is effective if you have the right management software.
For the attendees, an event management system makes registering and experiencing an event a seamless process. The right software will provide easy-to-use forms or even come with a mobile app for event-goers to use and access the event schedule, contact information for questions, or ticket refund and add on options. 
There's an abundance of different event management software out there depending on your organization's specific needs, so read on to learn more and make the best choice!
2. What is the best event management software?
Knowing which event management software to invest in is challenging. It takes research and thought, which is why we decided to do the work for you. While a lot of different event software helps with specific management issues, it's best to look at a more holistic solution, like Fonteva Events.
Fonteva Events
Fonteva Events is the top event management software for any organization because it helps you through the whole event lifecycle.
From planning the event to marketing the event to generating reports so you know how to improve for next time, Fonteva Events can do it all for you. It also is 100% native to Salesforce, the most popular customer relationship management system. With your event management software and CRM system merged, there's nothing you won't be able to manage.
Features
Fonteva Events helps your organization manage events from the very beginning to the very end. Here are the features they offer:
Complete event process management – Fonteva Events helps you through every step along the way. With customizable registration forms, speaker/sponsor/vendor and venue management options, attendee management capabilities, and connections to 100+ payment processors, you'll be confident in your event at all times.
Native to Salesforce – If your organization runs on Salesforce to manage your database, having Fonteva Events is great for easy data integration and management. You'll be able to access real-time event details and all customer profiles. Because all your data is centralized, Fonteva Events will also generate comprehensive reports so you'll know what your event did well and where you can improve for the future.
Fair and predictable pricing – Even though Fonteva Events provides so much for your organization, it won't break your budget. With one fee per organization per year and a one-time implementation cost, you can spend your time running your event instead of worrying about how you're going to pay for it.
You won't regret using Fonteva Events to manage your organization's next event. And the more events you host, the more data your software will have to smartly plan your next one! To start increasing event attendance and engage your members, our top pick is Fonteva Events.
3. What are other great event management software options?
Fonteva Events isn't the only event management software option out there. If you're looking for something a little more focused and want to zero in on a particular issue, read on to learn about some other great alternatives.
Whova 
If your organization finds itself constantly on a time crunch, Whova might be the event management software for you. With an efficient agenda center to coordinate and manage your event's schedule, you won't waste time flipping between different platforms. And if you make one change, you can automatically sync the new agenda across different websites along with a Whova app.
Not only does Whova make the event managing process more time-efficient for you, but it also provides:
Fast check-in for attendees.
Live polling to garner responses from your event goers in real-time.
An engaging "social wall," a large screen that will display a variety of different event updates or live tweets, sponsor logos, and photos taken by attendees.
To learn more, check out Whova's website and software plan.
---
Double Dutch 
The people who attend your event are going to be the people that you want to cater to first. If you want event management software that puts their attendees first, Double Dutch is a great option. With options ranging from pre-event engagement to during the event communication to post-event attendee analytics, Double Dutch will help you learn more about and offer more to your attendees.
Double Dutch provides many features that help you strengthen your relationship and interactions with your event-goers. They provide:
Event promotion options – Double Dutch allows you to promote your event in a way that markets to each of your attendees. You also have customizable email options and marketing automation capabilities!
Communication and notification options during the event – Your attendees won't ever be lost or not know what's going on next. Double Dutch provides push notifications that can appear on all mobile phones and direct messages to individuals.
Post-event analytics – Double Dutch will auto-release post-event surveys and polls so that your attendees can give you feedback when the event is fresh in their minds. Using that data and reporting tools, Double Dutch lets you know how to improve for your next event.
As an organization that plans multiple events, you know how much rides on your attendees' happiness. To learn more, check out Double Dutch's website.
---
Eventsquid
Do you have trouble making your event registration forms? Do you often find that you are missing data or getting inaccurate data? Then you should check out Eventsquid, an event management software known for its flexible and powerful event registration features.
Eventsquid helps automate your event registration and makes the process easier for both you as the organizer and the people trying to sign up with these features:
Customizable registration forms – Eventsquid can handle every type of registrant form from a text box to a drop-down menu with tailored prompts.
Multiple payment options, pricing choices, and registration offerings – People can register by paying online or by invoice and have the option to do single, group, guest, and minor registrations.
Additional organization offerings in the registration form – Eventsquid also lets you offer access, sessions, goods, services, or donations all on your form.
Putting together an event registration form can be difficult if you decide to do it manually. Save time by checking out Eventsquid's website.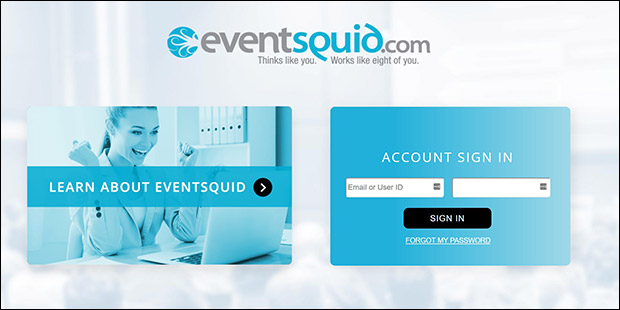 ---
OneCause
If your organization finds itself hosting multiple charity and fundraising auctions, you should definitely look into OneCause as your event management system. While it comes with other event tools like peer-to-peer fundraising functionality and online fundraising pages, OneCause is known for how it revolutionized mobile bidding for auctions.
What does mobile bidding mean? Mobile bidding is a paperless bidding method used during auctions that allows guests to bid from their mobile devices. This helps your event receive more bids but also simplifies your event management and centralizes the data.
Along with mobile bidding, OneCause helps your charity events run smoothly by:
Setting up your event by managing item procurement, advertising your auction, selling tickets, and promoting sponsorships. 
Having an unparalleled event auction experience with competitive bidding, outbid notifications, donation appeals, and raffle ticket options.
Wrapping up your event nicely with instant check-out, automatic email receipts, and post-event reporting.
Mobile bidding will change how your organization runs charity events and auctions. To learn more, check out OneCause's website.
---
Dryfta
With Dryfta software it is easy to set up a beautiful front-facing website, establish a budget, track expenses and income, manage abstracts, easily manage sponsors and exhibitors, and set up an event schedule and program for your academic conference. This software does it all and in one spot!
Dryfta is comprehensive enough to easily run a large academic conference.
Sell tickets & collect registration fees online with custom registration workflow
Collect abstract submissions with simple & advanced workflows
Run attendees engagement platform with on-demand videos & live meetings
Dryfta is the one-stop-shop for everything you need to manage your academic event.
---
Eventbrite
If your organization is planning something larger than the average event, like a multi-day music festival or large weekend conference, Eventbrite will help you manage it. Eventbrite has an app specifically designed for event organizers to run, track, and promote their event all from their mobile phone.
With Eventbrite, your organization can launch big projects while still using a simple interface. Eventbrite allows you to:
Create an aesthetically pleasing event listing page – Eventbrite's listing page has options to include their built-in payment processor, support, and analytic capabilities.
Elevate your brand – You can customize your event page to your unique brand. 
Plan and run large-scale events – Eventbrite can handle a lot of large event needs. They have easy-to-use mobile ticket scanning, at-door ticket selling, social media integration to host events on Facebook, and an app that organizers can use.
Large-scale events are always a challenge and can seem daunting. To learn more, check out Eventbrite's website.
---
Cvent
Already an established platform, Cvent is an event manager that is flexible to the needs of organizations by different industries and has an incredibly wide range of features. They have specific options for education, hospitality, and so on. If your organization is focusing on one of their categories, it might make sense to look into Cvent.
While Cvent's interface can seem complicated at first, Cvent is still a great choice for event management software if merging with your CRM isn't a big priority for you. With all the features Cvent offers, you're sure to find a solution to the problem your organization is having. 
To learn more, check out Cvent's website.
---
Plan your events quicker than ever with event management software solutions. If you want to learn more, check out these helpful guides:
https://events.fonteva.com/wp-content/uploads/2019/08/Event-management-software_feature.jpg
250
615
jfabbri
https://events.fonteva.com/wp-content/uploads/2021/09/FONTEVA_WHITE_LOGO-smol.png
jfabbri
2019-08-06 13:33:52
2021-12-22 20:04:26
Event Management Software: Our Top Reviews, Ranked!