A popular event management solution for organizations with extensive event planning needs, Cvent might be the first option you see when you begin your search for an event management platform—but it shouldn't be the last!
All software has its pros and cons, so before you settle on your selection, it's important that you survey all of your options. If your event planning team doesn't have time to spend shopping around, don't sweat; we've already done the hard work for you.
Here, we'll go through our picks for the top 7 Cvent competitors:
While each of these platforms are similar to Cvent, they also have their own specific advantages to help take your upcoming event to the next level.
You can learn more about why Cvent might not be the best choice for your organization by reading our post on the limitations of using Cvent with Salesforce. You might be surprised what you find out!
Now, let's dive into the reviews to find out which event management app is right for you.

1. Top Cvent Competitor: Fonteva Events
An all-in-one Salesforce event management solution, Fonteva Events can be your organization's partner for every part of the event planning experience. This powerhouse platform can transform your approach to:
Logistics management. Stay on top of venues, exhibitors, sponsors, speakers, and vendors without leaving Salesforce.
Guest management. Tackle ticketing and registration, build out attendee schedules, track RSVPs, and create and edit waitlists as needed.
eCommerce and donation management. Set up online storefronts to sell merchandise and accept online donations with guaranteed secure payment processing.
Event analytics. Run custom reports and design your event dashboard using Fonteva's incredibly user-friendly interface.
As a native Salesforce application, Fonteva seamlessly connects to your CRM, absolutely no integration required. Unlike non-native Salesforce apps, which require manual data updates and transfers to stay up-to-date, Fonteva always provides a clear, complete picture of your Salesforce and event data, all in one centralized location!
How It Compares to Cvent
Like Cvent, Fonteva Events is a comprehensive event planning solution, with a variety of tools to smooth out event planning, marketing, execution, and follow-up. Plus, Fonteva works well for any type of event, whether it be a one-off meeting, multi-day conference, training course, or anything else your organization needs to put together.
However, Fonteva stands out from the crowd since its unlimited features and event planning options are all available for one flat fee per year. Fonteva also provides 3 free upgrades to your event management software, so you don't have to worry about those hidden fees creeping up later on.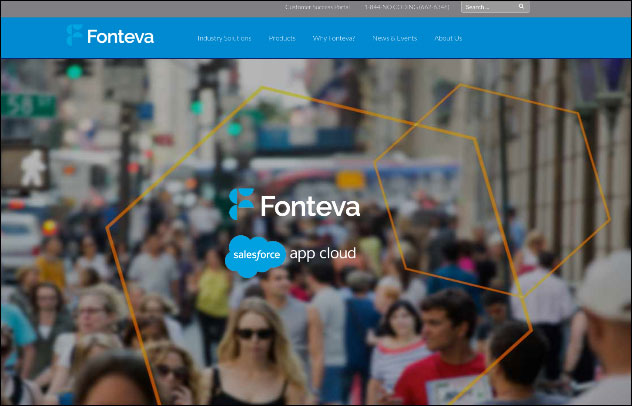 ---
Other Cvent Competitors to Consider

2. Cvent Competitor: Picatic
A web-based event management solution, Picatic can put your organization on the path to event success with its many different features, including:
Customizable event pages on the Picatic site where you can upload photos, videos, and important event details.
Email tools to send invites and updates to potential ticket buyers or guests.
Flexible ticket pricing options, including custom discount or access codes.
Registration widget to sell tickets on your own webpage or blog, with no redirection to the Picatic site.
While Picatic offers a free Basic package with the most essential event planning tools, organizations with complex event needs should likely opt for Picatic's Pro or Enterprise solutions. 
These more powerful platforms provide greater flexibility and a wider range of features to ensure that event planning pros are equipped with the most advanced tools and the highest level of support from the Picatic team.
How It Compares to Cvent
Picatic is a lightweight event management alternative that's ideal for organizations who don't need the full functionality of software like Cvent.
Similar to Eventbrite, Picatic is a web-based platform. While you can access all of its tools online, you can also integrate Picatic Pro with Salesforce to take a look at your event alongside your Salesforce data.
---

3. Cvent Competitor: Hubb
An event management platform designed for meetings and conferences, Hubb can help your event planning team stay on top of tasks, manage workflows, and focus on what matters—making your next event the best it can be! With Hubb, your team gains access to features such as:
Content management tools to help planners coordinate with event speakers.
Attendee schedule builder and built-in social features to share agendas easily.
Exhibitor and sponsor self-management tools.
Intuitive staff calendars with automatic conflict notifications to avoid double-booking.
Known as "event technology by event planners for event planners," Hubb has thought of almost everything that event managers need to produce successful events. 
But if you're not sure if Hubb is right for your organization, you can take their software on a test drive with their free trial option!
How It Compares to Cvent
Hubb focuses on streamlining and automating the event experience. Their users report that not only is Hubb easy to navigate; it's also easy to implement.
That means your team won't waste too much time in training and trying to figure out how to make the most of Hubb's software. Instead, you'll quickly be able to dive in and utilize the many features this platform houses.
---

4.  Cvent Competitor: BidPal
Though this software was designed for nonprofits raising funds through charity auctions, BidPal is comprehensive enough to cover any event fundraising needs. When you work with BidPal's web-based event management software, you'll have access to versatile features such as:
Online ticketing and RSVP management.
Flexible auction checkout tools and payment processing.
Online and in-person auction management and mobile bidding.
Social sharing and online event promotion.
Plus, BidPal stands out from a number of similar platforms thanks to its all-inclusive pricing, which allows fundraisers to manage multiple events per year for no extra fee.
How It Compares to Cvent
Unlike Cvent, BidPal comes with fundraising-specific tools that can strongly benefit event planners hoping to turn a profit for their charity, university, or other nonprofit organization.
That being the case, the team at BidPal has really thought through a number of innovative ways to streamline typically chaotic fundraising events, particularly silent auctions. Your guests can take advantage of BidPal's revolutionary mobile bidding tools to automate bids, instantly checkout and pay for their items, and even make additional donations.
The best part? Because guests will spend less time in checkout and registration lines, they can spend more time engaging with your event, making more donations, and enjoying their night at the auction—it's a win, win, win!
---

5. Cvent Competitor: EventCollab
A one-stop event management resource, EventCollab can help your event planning team stay on track together with tools such as:
Integrated documents stored in the cloud for easy, universal access.
Collaborative discussion tools so that your team can instantly connect with each other or outside parties (such as vendors or contractors).
Simple permissions to keep certain tasks, documents, or projects on a need-to-know basis.
Optimized interface for ease of use on mobile or desktop devices.
EventCollab's simple (but powerful!) platform will seamlessly connect all of your team members' tasks and projects so that you have a unified vision for your upcoming event. 
You can try EventCollab for free by signing up for their Lite Plan, which powers your team for up to 3 active events.
How It Compares to Cvent
With a greater focus on project management and team communication, EventCollab is a smart choice for expansive event planning teams (such as those with a number of contracted or remote staff).
Another advantage to using EventCollab? You can scale your solution depending on your needs, meaning that EventCollab can be the perfect solution whether you're planning one small meeting or multiple conferences. (And you'll only pay for what you need!)
---

6. Cvent Competitor: MobileCause
As a jack-of-all-trades provider for nonprofits and other types of fundraising organizations, MobileCause offers live and digital event management solutions geared toward fundraising events, including:
Mobile-friendly RSVP and ticketing (including text registration via shortcode).
SMS communication tools to stay in contact with guests before, during, and after the event.
Mobile pledging tools for on-site donations.
Live fundraising thermometer to display onstage at your event.
In addition to their event fundraising tools, organizations who opt for MobileCause can also choose from their suite of other nonprofit-focused products, including their peer-to-peer and crowdfunding platform, donor management tools, and campaign marketing software.
How It Compares to Cvent
Rather than providing an end-to-end event management solution, MobileCause focuses on equipping event fundraising teams with the tools they need to take their events to the next level, raising more money and causing less stress during the planning process.
All of MobileCause's tools can be combined to create a fundraising system that engages event guests both online and off.
Additionally, MobileCause is known for its top-notch customer support and digital marketing expertise; if your event management team needs help outlining your fundraising strategy or marketing plan, give MobileCause a call!
---

7. Cvent Competitor: Doubleknot
Doubleknot is a full-service event management solution provider offering event registration, booking, admissions, and fundraising tools specifically for the following types of organizations:
Zoos and aquariums.
Museums, science centers, and nature centers.
Camps, retreat centers, and conference centers.
Boy Scout and Girl Scout councils.
If your organization falls into one of those categories, Doubleknot can outfit your event planning team with everything you need to create programs and events that keep guests coming back!
How It Compares to Cvent
Though less all-encompassing than Cvent, for organizations with highly specific event management needs, Doubleknot can't be beat.
Like Cvent, Doubleknot also offers plenty of integration options and support to ensure it connects with the software you're already using. 
And if your CRM or other software doesn't have a pre-developed integration, Doubleknot will work with you personally to provide a unique connection that keeps your data centralized and always up-to-date.
---
Now that you're familiar with these excellent Cvent competitors, it's time to get started planning your best event ever.
Learn more about event management by checking out these resources:
Salesforce Event Management Guide. Learn how to effectively plan events without ever leaving your Salesforce CRM system. Our handy guide will show you the ropes of Salesforce event management!
Salesforce Event Management Apps: Key Features to Look For. If you're still unsure about what your event management solution should do, check out our rundown of the most important features for planning successful events in Salesforce.
More Top Cvent Competitors! Haven't had enough of these great Cvent alternatives? Double the Donation has 10 more Cvent competitors that you can use to boost your event success.
https://events.fonteva.com/wp-content/uploads/2017/08/top-cvent-competitors-hero.jpg
252
622
jfabbri
https://events.fonteva.com/wp-content/uploads/2017/10/fonteva-logo-200.png
jfabbri
2017-08-03 18:35:22
2018-02-21 13:36:40
Top 7 Cvent Competitors You Haven't Considered (But Need To!)